Halloween is probably my favorite holiday of the year. Well, except for Christmas, I guess. No one really says this, but Christmas is everyone's favorite holiday because they get stuff. Fact. But after the age of about 14 it becomes cool to "hate Christmas" so everyone pretends it's just such a nuisance and isn't it awful, and oh it's so commercialized "these days" (as though this is a recent development) and ugh, I just hate my family so much, and it's so boring blah blah blah... WHATEVER. You all love it really, you just love complaining more.
Anyways, aside form the obvs number one, I adore Halloween. I loved it as a kid, and I love it as an adult - perhaps being American (where we know how to celebrate this shit...) helps. I had years of traditional trick or treating, whereas kids in England have a sad stroll up and down their ill-equipped English neighborhood in which about 2 people have bothered to get any candy and even then it's crappy ASDA gold coins or raisins. I remember at university we had trick or treaters come to our house; that was a sad scenario. All we could give them was some Tesco Value crisps, the shit flavors that had been left because no one liked them. It was heart-breaking stuff.
Anyways - beyond the trick or treating, I loved loved loved the costumes. My brother and I had great costumes, and I've kept up the tradition as I've gotten older. This element of Halloween is catching on in England, where they take fancy dress as seriously as Americans, though at the moment Halloween is still primarily pretty mundane stuff in London - unimaginative Slutoween girls dressed as whores (nurse/policewoman/French maid/cat etc), and everyone else dressed in regular clothes with "zombie" faces consisting of lots of black eyeliner, white face powder and fake blood around the mouth. It's so depressing. I miss real costumes, things with some thought put into it. These are starting to appear more, people are getting the message and if you hang out with the right folks on the night you should get some exciting outfits. Just avoid the Old Blue Last.
As well as the costumes and general national excitement from America, I really miss the house decor. People went to town over there, dry ice, cobwebs, a stereo hidden in the front yard playing an endless loop of rattling chains and ghostly groans. Scary stuff. But even if the house wasn't going the whole hog, you could at least be sure that every house on the block had a jack-o-lantern. I remember at University, again, we got a jack-o-lantern. Had a great time carving the pumpkin then roasting the pumpkin seeds. Proudly put it out on our little balcony. Only for some idiotic and likely bored teenagers to steal it the following day. Good work England, stealing a crappy 80p pumpkin. Way to get into the spirit!
Anyways, in honor of the day, I've been trawling around looking for some super jack-o-lanterns and boy have I found some gems! Join me on my trip down Lantern Lane...
--Where better to start then the traditional Jack-O's, these are your standard fare and probably the most heart-warming to me as they're just so classic:
This is usually the kind of thing I do, partics the one on the left - notice all the jagged edges and the still visible pen lines from where they were meant to cut? That's my kinda carving!
--Then there's the more advanced carving, these display far more technique and skill, without straying too far from the traditional scary pumpkin look: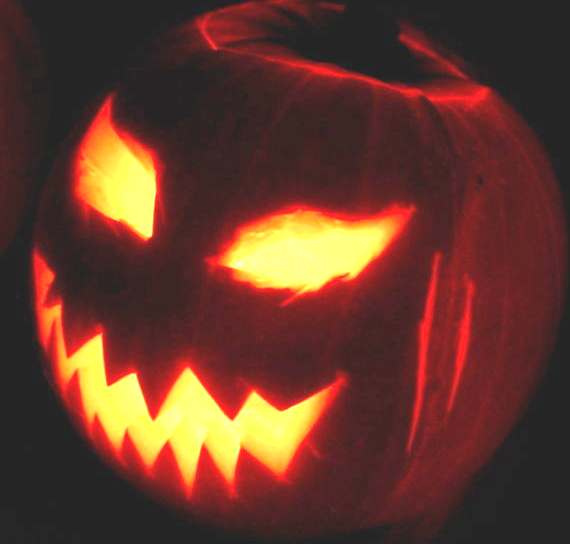 --Of course then there's the people who just have to show off their skills...pumpkin carving means a lot to them, they expect your praise: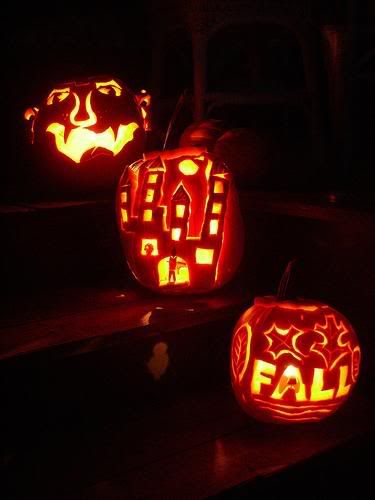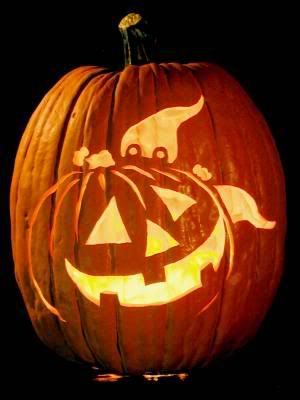 This is actually one of my faves simply because I really like the idea of carving a pumpkin onto a pumpkin. It's like wearing a t-shirt with picture of yourself on it. Something, by the way, which I've always wanted. So if anyone's stumped as to what to get me for the aformentioned Christmas, there's your present - get me a t-shirt of myself.
Okay, this is impressive and all, clearly took his time - but what the hell is it? Just random swirls and lines?? Are they meant to be Chinese throwing stars? And what the fuck is in the middle? Is that the stalk? There's something a bit tribal about the whole design, it has a sorta Lord of the Rings vibe going on and no-one wants nerdy fantasy/sci-fi shit on Halloween...Whoever carved this is the same guy who will be going to the Halloween party dressed as second tier character from Battlestar Gallactica.
--Then there's the turbo pumpkin carvers, people who look forward to Halloween purely to get involved in the carving extravaganza; it's the one time of year their skills come to life (a depressing notion). These are people who have their pumpkins carved by the end of September. They are often celebrities/movies/current events-based (the Presidential election is particularly popular this year) and they are probably for a local carving competition that no-one, aside from those taking part, ever hears about :
LOL
--Then there's the trend pumpkins. For a while the biggest trend was the puking pumpkin, which I actually still love: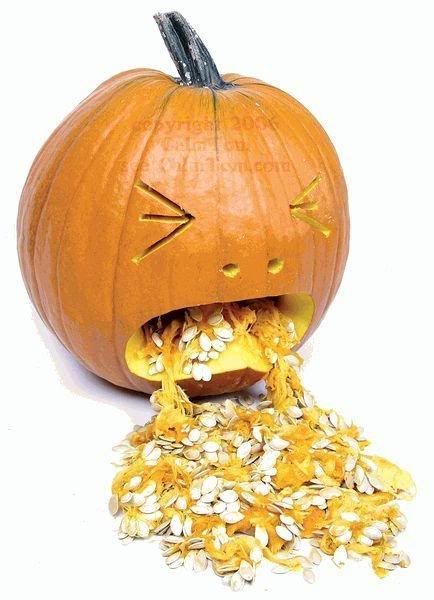 But recently, there's a been a trend towards cannibal pumpkins, very hip, very now:
--And of course, the comedy pumpkins! Sometimes simple, yet more effective than the rest. Often simply moronic:
Emoticon-o-lantern!
Has absolutely nothing to do with Halloween or pumpkins. Just an abstract statement. This is almost pop art.
--And there's this. Not even a jack-o-lantern really. Just my favorite use of a pumpkin. And actually easy!
The Burger Pumpkin!!!
Alas I have no jack-o-lantern this year, so if anyone want sot get one and carve it with me I'm free before my party tonight. Be warned I have no artistic talent and will want all the seeds for myself.
Happy Halloween kids!
Blogged with Flock